The new MarinTrust Chain of Custody standard V2.0 is now available to view here. The new standard became effective from 30th November 2020 when applicants and current certificate holders could apply to be certified under the new version. As of 1st December 2021, the transition period has ended for the CoC V1.1 to CoC V2.0.
All current CoC Certificate Holders due surveillance or recertification audits must now be audited against Version 2.0 of the MarinTrust Chain of Custody Standard.
All new applicants must apply to the new Version 2.0 of the MarinTrust Chain of Custody Standard.
To apply to version V2.0 of the CoC standard, please download and complete the MarinTrust Chain of Custody V2.0 Application Form 7.1 together with the MarinTrust Self Declaration Form and submit directly to MarinTrust via [email protected]. 
MarinTrust Chain of Custody certification process
The certification process for the MarinTrust CoC Standard is shown below:
All recertification applications must be sent to MarinTrust for approval 6 month prior to the certificate expiry date. 
Anyone wishing to notify MarinTrust of changes or additions to their scope must submit scope extension applications at least 3 months prior to scheduled audits.
Image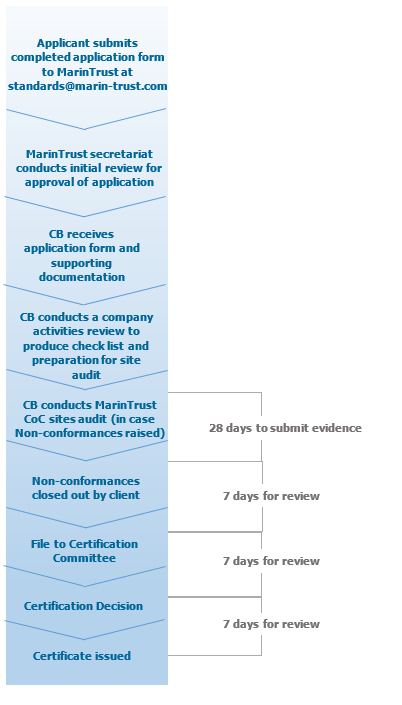 Upon issuance of the certificate of compliance by the third-party Certification Body the MarinTrust Secretariat shall upload the certificate to the list of MarinTrust Chain of Custody certified sites.