MarinTrust held a Full Traceability Workshop on 24 October 2022 in Lima. The workshop is available to stream via the video links below.
Francisco Aldon, CEO, MarinTrust: Opening: Why is traceability important?
Frank Terzoli, General Secretariat at Global Dialogue on Seafood Traceability (GDST): How can fishery and aquaculture supply chains show leadership in advancing the standardisation and adoption of interoperable traceability?
Francisco Aldon, CEO, MarinTrust: Complexities of traceability in digital supply chain
Erick Saavedra, Head of Quality and Innovation at Pesquera Centinela SAC: The marine ingredients industry in Peru is ready for blockchain and innovative traceability
Panel discussion, moderated by Libby Woodhatch, Executive Chair, MarinTrust, featuring Francisco Aldon, Eddie Ajalcriña B (Vitapro), Erick Saavedra and Frank Terzoli
Eva van Heukelom, Partnership Manager at Global Sustainable Seafood Initiative (GSSI): Seafood Map, a tool to reduce the knowledge gap on the sustainability of seafood production and build bridges within the sustainable seafood industry
Francisco Aldon, CEO at MarinTrust: Global collaboration to drive traceability throughout the marine ingredients value chain
Full Traceability Workshop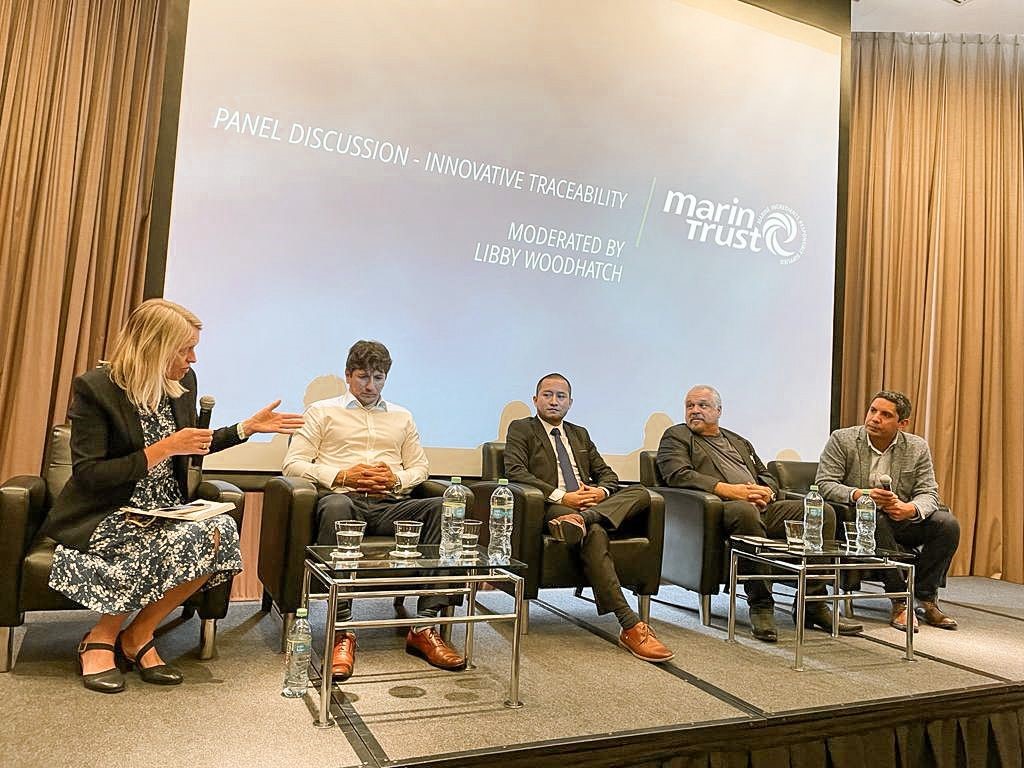 Traceability is the ability to fully trace a product from the point of sale back to its point of origin, with information available about all transactions and movements in between.
'It's about knowing what we are collecting. We call this KDEs: key data elements. They include master data (your identity like vessel name, vessel registration etc.). Then it's about knowing who needs the data. Who is responsible for the data. Who needs to capture what. We call them CTEs: critical tracking events. CTEs assign responsibility for data capture. And finally we need to know how to do that', Franck Terzoli, from Global Dialogue for Seafood Traceability (GDST) explained. 
Adoption is a promise to continue. It's different from implementation, he highlighted. GDST works with the TrazApp system which reports the data and is putting the data into a digitalised format. 
How to make sure marine ingredients don't get lost?
'The part of the value chain sitting between fisheries and aquaculture is a blind spot. We need to make the link between both more visible', Francisco Aldon, CEO at MarinTrust stated. By-products (i.e. leftovers from fish processing) are the link between the food sector and the marine ingredients industry. MarinTrust can build the bridge by working together with partners such as GDST, a voluntary standard and membership organisation which is supported by businesses in 28 countries.  
'Everyone is already collecting data. It's the case of putting all the data together. Over 100 companies have already endorsed the GDST standard', Franck Terzoli added. 
Work is underway
Traceability is core to MarinTrust's works and programme components. More advanced features will be included in version 3 of the factory standard. MarinTrust launched a UK pilot Seatrace in 2021 focusing on a variety of by-products. The pilot helped identify which KDEs are relevant to marine ingredients and map CTEs and understand how they connect with each other. The pilot highlighted the complexity of processes and the challenging aspect of proving data integrity and handling multi species fisheries. A second pilot took place in Peru, focusing on wild caught fish. 
The pilot highlighted that we are already collecting the data but there are different levels of technologies and different languages, Erick Saavedra, Head of Quality and Innovation at Pesquera Centinela explained. Pesquera Centinela operates fishmeal and fish oil plants in Peru. Feed producer Vitapro mixes the fishmeal and fish oil that Centinela produces with other ingredients. GDST offers a common platform and language. 
'It's vital that each company evaluates their own traceability systems. The costs mostly relate to making those systems interoperable. Implementing traceability is time consuming but the investment is well worth it', Erick added. 
During a panel discussion which Libby Woodhatch, Executive Chair of MarinTrust, moderated, Eddie Ajalcriña B at Peruvian feed producer Vitapro insisted that advancing traceability requires more investment and engagement with governments and other local authorities. 
'It's important to speak with one voice and spread one single message. It's how we can get funding and be heard. If you want to sustain the planet we need aquaculture and marine ingredients', Franck Terzoli added. 
MarinTrust wants to make sure the industry has the right understanding and awareness so it doesn't miss the important milestones. It is aiming at becoming a leader in traceability for the marine ingredients industry.
Global Sustainable Seafood Initiative (GSSI) is a benchmark which will facilitate recognition of other standards by MarinTrust. This is expected to support MarinTrust's ambition to have 75% of global marine ingredients production engaged in its programme.
Seafood Map is a platform which will be launched by GSSI in the first half of 2023 showcasing the initiatives that all stakeholders are undertaking to advance traceability, Eva van Heukelom, Partnership Manager at GSSI, explained. There is third party verification in place to ensure robustness of the data that are available on the platform. The platform also provides incentives for continuous improvements.
'Traceability cannot be done alone, so join the conversation and spread the word', Francisco Aldon concluded.