To be certified to the MarinTrust Standard for Responsible Supply, renew certification or extend the scope of certification, producers of marine ingredients must be able to demonstrate the following:
Marine ingredients come from non-IUU fisheries that are managed in accordance with the FAO Code of Conduct for Responsible Fisheries.
Production is carried out to high standards of safety and quality, with sufficient care given to the environment, workforce, and local community.
The certification process for the MarinTrust Standard is as follows:
Complete the MarinTrust Application Form 5.1 and email directly to [email protected].
All recertification applications must be sent to MarinTrust for approval 6 months prior to the certificate expiry date. 
Anyone wishing to notify MarinTrust of changes or additions to their scope must submit MarinTrust Scope Extension Form 2.1 to [email protected] at least 3 months prior to scheduled audits.
Important note: Although the unit of certification is the plant, assessment of species is a necessary prerequisite in order to provide assurance for the responsible sourcing of raw materials used for the production of  marine ingredients
Following your initial MarinTrust factory audit, your auditor will provide you with a non-conformance list (if applicable). You should request a certification timeline from them, which sets out when the MarinTrust procedures should be completed, and when you should receive your certificate.
(Click on the image below to enlarge)
Image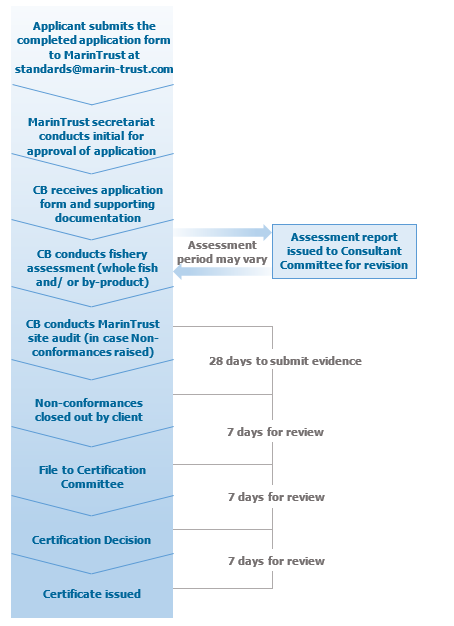 Upon issuance of the certificate of compliance by the third-party Certification Body the MarinTrust Secretariat shall upload the certificate to the list of MarinTrust certified sites here. 
Fisheries assessments Data Gathering and Information Submission
It is important that each company applying for the standard indicates the specific species that each individual plant uses so that this can be listed correctly in the certificate scope. Fisheries assessment data gathering is the responsibility of the applicant to complete. Applicants must submit the Fishery Assessment Basic Information Submission Requirements document to MarinTrust together with the application form.
All sections of the Fishery Assessment Basic Information Submission Requirements. Attach all relevant and useful information for each species, with links to respective references and clauses, and send directly to the Certification Body.
Final interpretation of the data for adherence to the Standard, and the decision on whether to approve a fishery, rests with the certification body and their assessment team.
In addition to the guidance documents, you may also use data submission and assessment period charts for both whole fish fishery assessments and by-product fishery assessments.
These charts show:
When the applicant/certificate holder should provide all data relevant to the fishery to be assessed
The period in which the assessment team will produce the report
The review period by the Fisheries Peer Review Committee
Approval date