A Working Session was organised by the Global Dialogue on Seafood Traceability (GDST) and MarinTrust on the 23rd october 2023 in Cape Town, South Africa.
This session was led by The Global Dialogue on Seafood Traceability (GDST), the global standard for interoperable digital traceability in seafood, with speakers Gregory Brown, Mike Platt, Eva Mudde, Francisco Aldon and Richard Stavis. It is the the second dialogue event of a 4-part series, with the first regional working session occurred in Singapore in September, the next one will occur in Boston next March, and all comments and feedback from this process will be used to update the standard if appropriate.  Should there be a proposed revision to the Standard it will be voted on by GDST partners next April. This was an in person and virtual event, with robust participation. On line attendees represented South Africa, Namibia, the United Kingdom, and 8 European countries. Participants were involved in harvesting, distribution, retailing, members of certification organizations, NGOs Academic institutions and more.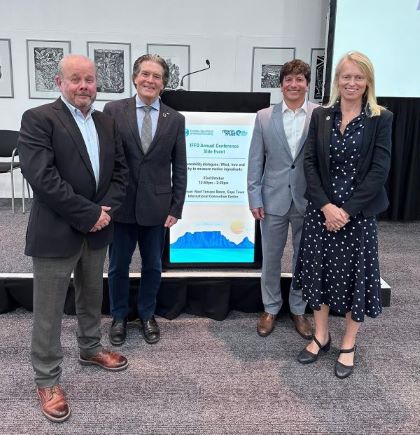 Introducing the international regulatory landscape, Gregory Brown noted that he had seen a distinct movement towards traceability in the regulatory space in recent years, for example with the Food Safety Modernization Act in the USA (FSMA 204). Regulatory agencies are struggling to keep up with the documentation for EU fisheries controls or customs authorities as it currently stands. It is important for documents such as those with catch data to become electronic and make this process more efficient. The GDST can provide a pathway for compliance to the new regulatory initiates that are being implemented. Brown concluded that interoperable traceability provides value and benefits.
GSSI's Seafood Map
Eva Mudde provide an overview of their Seafood Map, a digital reporting platform which allows a common language for initiatives to articulate a set of globally shared goals and values. Third-party standards are a well-known and well recognised solution for providing assurances of good practices and responsible sourcing and production for the value chains. Transparent reporting requirements and continuous improvement are essential to address current as well as new or upcoming sustainability priorities.
Inclusion of KDE's and CTE's in MarinTrust's factory standard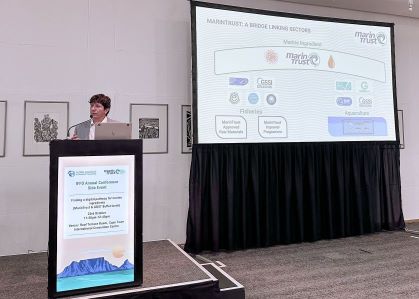 MarinTrust's Francisco Aldon noted that the inclusion of KDE's and CTE's was driven by the marine ingredients industry as they were already recording this information and the data was now being requested by their buyers.  At the moment this process and the data being transferred can be very disparate and are not always easily transferred between companies. This is why it is important to standardize data to improve efficiency.
Example of how GDST has helped was provided by Mars Petfood, who noted that in general the industry needs to rise up to the challenge of traceability as the supply chain can be a maze. Having the GDST as a fundamental backbone for the industry is helpful. The seafood value chain wants to know where their seafood is coming from so this requirement is coming.
Traceability is developed with the industry
Mike Platt (GDST) noted that there is an industry requirement to ensure it was efficient and effective was to keep the wild capture and aquaculture separate in the GDST, however there will be a common language. It is important to ensure that the GDST development allows for it to be applicable and beneficial to small holder fishers and producers as well as the larger actors.
Updates for GDST on interoperability
Philip Heggelung noted that the original version of GDST identified challenges with a number of potential software providers that didn't 'talk' to each other. They now have a capability test to test a companies system and see how compatible it is with the GDST standard and a completeness tool which checks what % of data required for the GDST is already being collected by the seafood business owner. It is not an accuracy tool. This can also be a measure of progress and facilitate improvement targets.
Verification and validation to help improve trust in the data
Everyone is drowning in data but the ability to share it is what makes it meaningful, this is why enabling interoperability is a vital aspect of the GSDT. Their completeness tool analyses supply chain data and creates a supply chain map that can identify which suppliers are causing the completeness to drop.
Finding a digital pathway for marine ingredients
Francisco Aldon detailed the digital pathway for marine ingredients, noting that the 'product' is not just the ingredient but also that data and information that comes with it. Sometimes information isn't provided along with by-product raw materials to the marine ingredient producers. Starting with the data, the current data environment is fragmented and complex.
MarinTrust is working to make the different activities in marine ingredient production explicit within the GDST standards and facilitate data transfer between different actors in our supply chain. The inclusion of KDE's in the MT standard will help the industry identify and share data to their buyers in a consistent way. It will empower marine ingredient producers and users to understand data transfer and digitalization and this is why we are working with the GDST. The circularity of products is vital for the future, that is why by-products are so important to tackle in the MarinTrust standards with an aim of making them easier to be recognized for marine ingredient production.