(Shanghai, November 5th 2019) Libby Woodhatch, Executive Chair of IFFO RS, and Cayetana Aljovin, President of the Sociedad Nacional de Pesquería (Peru), signed a Memorandum of understanding on 5 November.
The activities of IFFO RS and SNP are complementary, and by working more closely together through a formal MoU, each organisation can help the other achieve their respective objectives. Through this MoU, IFFO RS will also benefit from local knowledge and expertise to address the growing demand from the value chain to show social responsibility in marine ingredients at a vessel level. SNP will support IFFO RS with trial audits against relevant standards that will be updated or further developed.
Image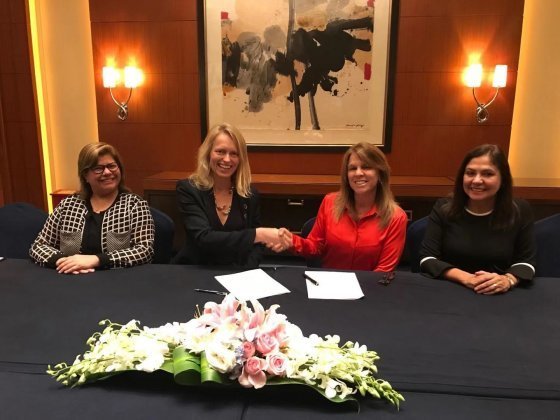 Libby Woodhatch said that "IFFO RS wants to recognise the significance of Peru as the global leader of responsibly sourced marine ingredients. The industry's input is essential to ensure that IFFO RS schemes are robust and up-to-date, and that the standard can grow further. We also need to work collectively to protect the reputation of the industry."
Cayetana Aljovin added that "the Peruvian industry is able to provide local knowledge and insight to assist IFFO RS ensuring the programme remains relevant and accessible. The industry's sustainability has increased tremendously over the last decade and SNP is proud that 100% of all marine ingredients producing members of SNP are IFFO RS compliant."
IFFO RS' Governing Body Committee includes representatives from marine ingredients producers, traders, fish feed producers, fish farmers, fish processors, retailers, marine conservation NGOs and related standards. Since the first fishmeal plant was IFFO RS certified in 2010, the standard holder has grown tremendously and now certifies 52% of the fishmeal and fish oil produced worldwide.
For more information about the IFFO RS please visit the IFFO RS website or email the IFFO RS secretariat at [email protected].