Our Assurance System refers to the measures put in place to ensure that our certification provides the required credibility, relevancy, and assurance that marine ingredients produced are responsibility sourced and fully traceable to a compliant marine ingredient throughout the supply chain.
In order to safeguard the credibility, transparency and integrity of the Programme, the MarinTrust Assurance System has been developed in alignment with relevant norms, such as ISO/IEC 17067, 17065, 17021-1, 17011, and independently evaluated against ISEAL assurance code as part of MarinTrust's ISEAL Code Compliant membership. The Assurance System is comprised of a publicly available Governance System, Oversight system  and Quality Management System, giving stakeholders confidence and trust that MarinTrust Programme is effectively implemented and the certification process is robust, consistent, efficient, effective and impartial.
The below diagram provides a visual overview of the key components of the Assurance System:
Image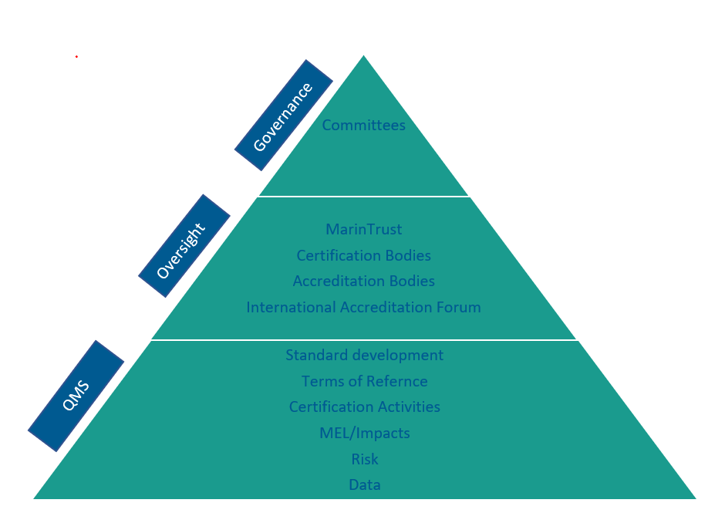 Image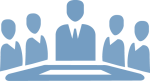 Governance : Multi-stakeholder governance with appropriate decision making process and controls
Our governance  is structured to ensurethe standards, strategy, and decision making involve the opinions, expertise, and experience of multi-stakeholders and that we have appropriate decision-making processes and controls in place so that the interests of all stakeholders are balanced. The committees include Standard Steering Committee who assist with the development and revision of the standard and Technical Assurance Committee who support the development, revision and implementation of the robust and credible assurance system.
Image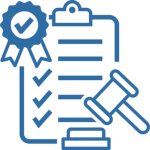 Assurance Oversight System: Ensures impartiality and independence of certification process
Our Assurance Oversight System safeguards the impartiality and independence of the certification process. Whilst MarinTrust develops its standards in alignment with ISO/IEC 17067, it appoints independent, accredited Certification Bodies (CBs) to carry out all fishery Assessments, facility audits, and certification activities who have the sole authority for certification decisions. CB accreditation is granted by independent Accreditation Bodies (AB) who ensure CB adherence to ISO/IEC 17065 and MarinTrust requirements.
Image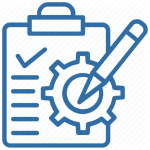 MarinTrust Quality Management System:  Safeguards consistency in certification
The MarinTrust QMS ensures the consistent delivery and implementation of the standard through a series of documents which provide details of activities, procedures, and responsibilities of the certification process.
To ensure the continuous improvement and maintenance of a credible, robust, efficient, and relevant assurance system, the assurance system undergoes annual review taking into consideration current practice within the industry, alignment with relevant norms, and any issues identified within the system, and we invite stakeholders to submit comments, suggestions, and complaints on the assurance system at any time.