MarinTrust Standard certified sites 
As of March 2023 there are 165 sites in 25 different countries that have been successfully audited to comply with the MarinTrust Standard. These figures are subject to change.
Table last updated: 3 February 2023
Country
Sites
MarinTrust approved whole fish species
MarinTrust approved by-product species
MSC verified
Argentina
2
 
8
 
Australia
1
Mixed small pelagics
 
 
Chile
22
Anchovy
Araucanian herring
Jack mackerel
Pacific chub mackerel
1
 
Côte d'Ivoire
1
 
3
 
Denmark
2
Herring
Sand eel
Sprat
13
Herring
Norway pout
Sand eel
Sprat
Ecuador
7
 
8
 
Estonia
1
Herring
Sprat
 
 
Faroe Islands
1
Capelin
3
 
Finland
1
 
 
Herring
Sprat
France
2
 
24
 
Iceland
10
Norway pout
Mackerel
2
Capelin
Herring
Latvia
1
Herring
Sprat
 
 
Mauritius
1
 
4
 
Mexico
5
Mexico small pelagics
2
 
Morocco
10
 
4
 
Norway
14
Calanus
Capelin
Herring
Horse mackerel
Norway pout
14
Capelin
Herring
Sand eel
Sprat
Panama
2
Anchovy
Pacific thread herring
 
 
Peru
43
Anchovy
 
 
South Africa
4
Multi-species pelagic trawl
1
 
Spain
3
 
7
 
Thailand
10
 
18
 
UK/Ireland
5
Boarfish
25
 
USA
5
 
3
 
Vietnam
12
 
7
 

Total

165

 
 
 
Combined world production of MarinTrust compliant material 
The global share of marine ingredients production which is certified against the MarinTrust factory Standard in 2017-21 is presented in the below pie chart. The global production of marine ingredients in this period was 31 million metric tonnes.
Image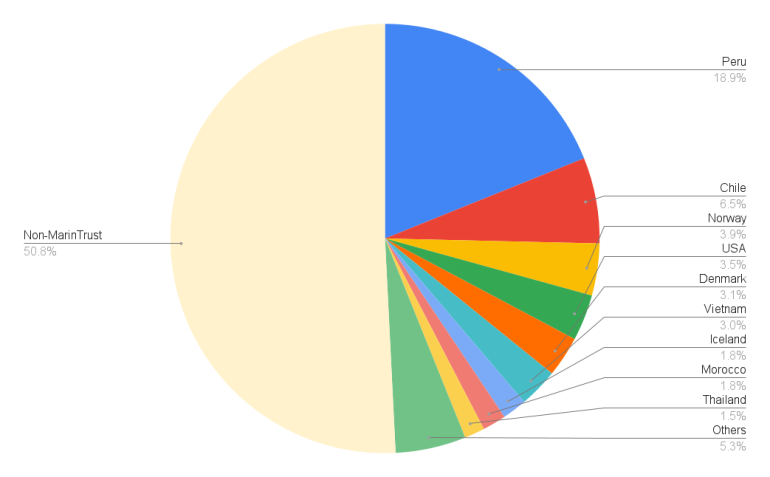 These calculations are based on annual declarations of production volumes of MarinTrust compliant material by certified sites. Therefore, the global share of certified marine ingredients varies every year. The five-year averages presented here reflect the progress which the marine ingredients industry has achieved since the MarinTrust programme was created in 2009 and convey an accurate representation of the general, positive trend.
Image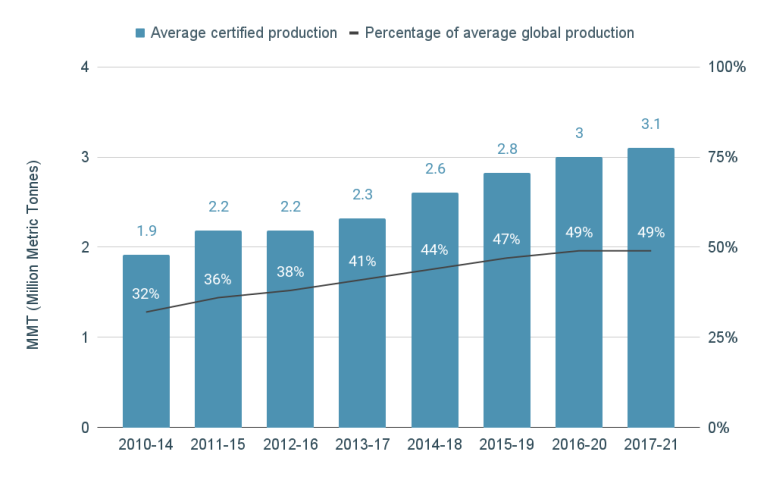 It must be noted that the 2021 calculation takes into account the loss of MSC certification for blue whiting at the end of 2020. This resulted in the loss of MarinTrust recognition. Therefore, any marine ingredients produced using blue whiting subsequently lost certification. The blue whiting fishery is currently part of an ongoing Fishery Improvement Project (FIP) as part of the MarinTrust Improver Programme. More details on the NE Atlantic Blue Whiting FIP can be found here.
MarinTrust Chain of Custody certified sites 
As of March 2023 there are 86 certified sites in 20 different countries that have been successfully audited to the MarinTrust Chain of Custody Standard. These figures are subject to change.
Table last updated: 3 February 2023
| Countries | Certified Plants | Products |
| --- | --- | --- |
| Argentina | 1 | Fish oil |
| Canada | 2 | Fishmeal and fish oil |
| Chile | 10 | Fishmeal, fish oil and marine fatty acids |
| China | 10 | Fish oil |
| Denmark | 4 | Fishmeal and fish oil |
| Ecuador | 1 | Fish oil |
| France | 3 | Fishmeal and fish oil |
| Germany | 4 | Fishmeal and fish oil |
| Greece | 6 | Fishmeal and fish oil |
| Malaysia | 1 | Fish oil |
| Morocco | 3 | Fishmeal and fish oil |
| Netherlands | 1 | Fish oil |
| Norway | 4 | Fishmeal and fish oil |
| Peru | 21 | Fishmeal and fish oil |
| Spain | 6 | Fishmeal and fish oil |
| Sweden | 1 | Fish oil |
| Thailand | 4 | Fishmeal, fish oil, hydrolysate and hydrolysate emulsion |
| UK | 1 | Fishmeal and fish oil |
| USA | 2 | Fishmeal, fish oil and fish protein hydrolysate |
| Vietnam | 1 | Fishmeal and fish oil |
| Total | 86 |   |