Image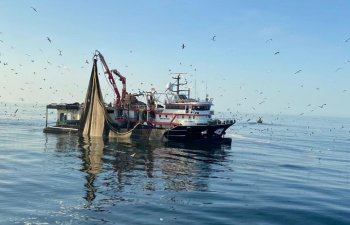 Description: The Mauritania small pelagics FIP has focused on working with scientists to improve data collection on the fishery, landings and stocks, in order to improve our knowledge of stock status and hence enable management to make informed, sustainable decisions. To this end, we have supported data collection on board, at landing sites and in our participating factories. We have also contributed to the fishery management plan, which is in the process of review and revision, emphasising the importance of science and sustainability. In the immediate future, we are planning to continue this work, but also turn our focus towards understanding bycatch and the ecosystem more widely. All our participants and stakeholders are aware that these small pelagic populations, and the ecosystem on which they depend, provide a source of food and livelihood for millions across the region, so we are also working on a social component, to ensure that the impact of our fishery is positive socially as well as environmentally.
Accepted Date: October 2019 Initial Fishery Assessment, Fishery Action Plan, Fishery Action Plan updated 2021
End Date: October 2024
Last Update: October 2022
Progress reports: October 2020, Assessment update April 2021, October 2021, October 2022
FAO Area: 34
Country: Mauritania
Gear Type: Purse seine
Species
Target species used as whole fish for marine ingredient production:
Cunene horse mackerel (Trachurus trecae)
Flat sardinella (Sardinella maderensis)
Chub mackerel (Scomber japonicus)
European Pilchard (Sardina pilchardus)
Atlantic Horse Mackerel (Trachurus trachurus)
Bonga Shad (Ethmalosa fimbriata)
On occasion, other species may be used for marine ingredient production.