Image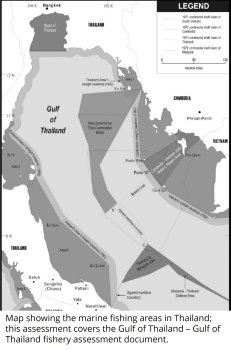 Multispecies pilot project: The MarinTrust programme in collaboration with South East Asian multispecies fisheries, including the Gulf of Thailand, are developing a fishery assessment method to allow them to demonstrate responsible management. Using the MarinTrust Improver Programme structure, Thai fishmeal producers, government representatives and other stakeholders, are working towards demonstrating responsibility of the Gulf of Thailand mixed-trawl fishery. By testing the developing multispecies fishery assessment against these fisheries, MarinTrust aim to produce an assessment process that can be incorporated into the main MarinTrust Standard and therefore increase accessibility to the programme.
Accepted Date: October 2020: Fishery Assessment (updated in February 2022), Fishery Action Plan
End Date: TBC
Last Update: October 2022
Progress reports: 6 month progress report (Dec 2022)
Geographic area: Gulf of Thailand
Country: Thailand
Gear Type: Paired trawl, Otter board trawl & Beam trawl
Species
Multispecies (main species) used as whole fish for marine ingredient production:
Splendid pony fish slimy, Eubleekeria Splendens
Longfin Mojarra, Pentaprion longimanus
Pugnose ponyfish, Secutor insidiator
Yellow-Finned หรือ Leather Jacket, Alutera monoceros
Purple-Spotted (Bigeye), Priacanthus tayenus
Yellow goatfish, Mulloidichthys martinicus
Gold band fusilier, Pterocaesio Chrysozona
Cinnabagoat fish, Heptacanthus
Yellowtail Fusilier, Caesio erythrogaster
Lizardfish, Saurida undosquamis
This list is representative of the key species used for marine ingredient production. Other species may be used for marine ingredient production.